The Resume Writing Academy  
Resume Writing This document generously shared with Fair Shake by The Resume Writing Academy thanks to: 
Wendy Enelow, MRW, CCM, CPRW, JCTC and
Louise Kursmark, MRW, CCM, CPRW, JCTC
Top Tips & Techniques for Writing Best-in-Class Resumes
Free 78-minute resume writing audio webcast with printable handouts.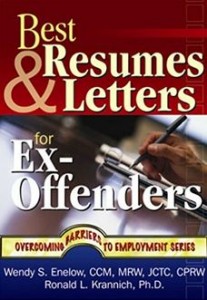 Best Resumes and Letters for Ex-Offenders
A resume guide that addresses special
employment issues facing ex-offenders.
Raw Resume
http://www.rawresume.com/write-resume-definitive-guide
How to Write a Great Resume: The Definitive Guide
This guide will take you from start to finish through all the aspects of a great resume and help you transform your current one into an interview-winning resume. Written for beginner and intermediate job searchers. Print or read The Complete Guide to A Winning Resume – Cheat Sheet to get started.
Here I am – Resume Writing That Gets Noticed 
The Complete Guide to a Winning Resume Cheat-Sheet
Discussing Your History in the Interview
US Department of Labor Career Onestop
Formerly Incarcerated Reemployment
http://www.careeronestop.org/ExOffender/index.aspx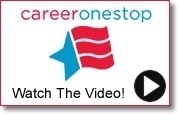 1-877-348-0502      TTY: 1-877-348-0501
Career Onestop –  Locations:
Other Employment Support 
Jails to Jobs
http://www.jailstojobs.org/html/help_with_new_entry.html

Jails to Jobs is an organization that gives ex-offenders the tools they need to find employment. On this website you'll find a step- by-step plan to follow as you carry out your job search.
Livecareer.com
Livecareer.com offers great tools and resources for exploring careers, whether you're searching for a new job or considering a career change.- See more at:
https://www.livecareer.com/quintessential/career-exploration
how2become.com
How2become.com offers a resource guide that provides detailed insight into how to answer certain questions, body language and more.
Put together a successful job search with resources on resumes, interviewing, networking and finding job openings.
https://www.careeronestop.org/JobSearch/job-search.aspx
Everything in this section available Online Only
America's Service Locator connects individuals to employment and training opportunities available at local American Job Centers.
America's Career InfoNet occupation and industry information, salary data and career exploration assistance.    www.CareerInfoNet.org
mySkills myFuture helps career changers find new occupations to explore.   www.mySkillsmyFuture.org
Veterans ReEmployment is a one-stop website for employment, training, and financial help after military service.
Fair Shake Employment Documents
Available Offline and Online
(Be sure to also check out the information we have on
Employers page to help the interviewer hire you!)

Share this document with your potential employers to help them hire you. 
Bonding, WOTC, and EEOC fliers
You are bondable Federal Bonding Flier
Work Opportunity Tax Credit Flier
Equal Employment Opportunity Commission:
      Background Checks
More on Background Checks: What Applicants Need to Know
Formerly Incarcerated Individuals' Job Restrictions
      (US and Wisconsin) Created by the WI-DOC
Take the 'pocket OM' along to bolster you
before interviews!
About the Fair Shake Personal Web Page
Members differentiate themselves from other applicants!
Members share information easily. No need to carry documents; they are stored in their account.
Shows dedication to reentry success and provides a place to demonstrate interest in taking a proactive approach by sharing skills, character traits, and intentions.
Employers and property managers can get to know members comfortably, reducing likelihood of auto-dismissal based on felony history.
Fair Shake Member Card provides member information, url and password to the member's page.
Member Web Page password is changeable! Access only given to current password holders.
Fair Shake can verify references, even for volunteer work.
Also available to Fair Shake members is a free email account, data storage and tutorials to learn to use electronic tools.
National Resources and Information
Advice from a Senior U.S. Probation Officer Workforce Development Coordinator
http://community.nicic.gov/forums/p/46711/85165.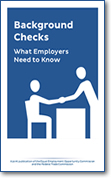 Federal Bureau of Prisons Employment
      Information Handbook
Veterans Employment Assistance: The Transition Assistance Program (TAP) was established to meet the needs of veterans during their period of transition into civilian life by offering job-search assistance and related services. The guide books below were created specifically to support you by applying considerations from your service life to your job seeking. Check in with your local TAP program to find out about jobs that are available near you. To locate your local support office, click on this link: http://www.benefits.va.gov/vow/tap.asp
Personal Appraisal & Career Exploration
Job Search Strategies & Interviews