Other Employment Support 
Jails to Jobs
http://www.jailstojobs.org/html/help_with_new_entry.html

Jails to Jobs is an organization that gives ex-offenders the tools they need to find employment. On this website you'll find a step- by-step plan to follow as you carry out your job search.
Discussing Criminal History in the Interview
       – Source Unknown
Federal / National
Resources and Information
Advice from a Senior U.S. Probation Officer Workforce Development Coordinator
http://community.nicic.gov/forums/p/46711/85165.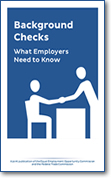 Federal Bureau of Prisons Employment
      Information Handbook
The Transition Assistance Program (TAP) was established to meet the needs of veterans during their period of transition into civilian life by offering job-search assistance and related services. The guide books below were created specifically to support you by applying considerations from your service life to your job seeking. Check in with your local TAP program to find out about jobs that are available near you. To locate your local support office, click on this link: http://www.benefits.va.gov/vow/tap.asp
Personal Appraisal & Career Exploration
Job Search Strategies & Interviews
Reviewing Job Offers & Support and Assistance
how2become.com
How2become.com offers a great resource guide,that provides detailed insight into how to answer certain questions, how to behave, body language and more.- See more at: 
https://www.how2become.com/resources/interview-skills/
Livecareer.com
Livecareer.com offers great tools and resources for exploring careers, whether you're searching for a new job or considering a career change.- See more at:
https://www.livecareer.com/quintessential/career-exploration