Let's Explore BELIEF
Belief is at the foundation of our thinking, our feeling, and every aspect of our daily existence.  This document will not directly address religion, but much of the content applies to religious beliefs as well.  We all believe!
"Whether you think you can, or your think you can't – you're right."  – Henry Ford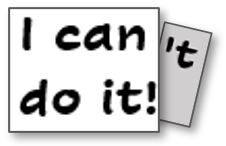 BELIEF is how we steer our ship:
+ It influences what we acknowledge, perceive, hear, pay attention to, discover, attribute.
+ It guides our values: how we invest in ourselves, how we value and treat others, how we see the value of things (money, cars, etc.), of information (education, news sources).
+ It guides our emotions, which guide our thinking and our behaviors. For example: if we are afraid of dogs, we might shake and sweat, and even run away from a sleepy dog.
+ It guides our feelings of self-worth, efficacy, and what we are capable of – all of which affect how we see our options, opportunities and potential.
+ It can give us strength or make us weak. Belief has brought believers through amazing hardships!
+ Belief guides our ability to trust; trust that we can do things, that we are important contributors to civilization, etc., and also how we trust others, and how we can grow our trust in relationships.
+ Belief also guides how we make sense of things; our justifications and our logic.
We tend to believe that others see the world the way we see the world, which is one of the reasons we find it hard to believe that they could have different solutions to problems!