Evidence-based Recidivism Reduction Programs and Productive Activities for FSA credits  – 2.7.2020
BOP Home Confinement Memorandum – 4.2.20

CORRLINKS: Do you need help connecting with a friend or loved one?
https://www.fairshake.net/corrlinks-sign-up/
Looking for a BOP-contracted Halfway House or Residential Reentry Management Center?
All of the Halfway Houses are PRIVATE CONTRACTORS.  They are not a part of the FBOP, although the released individuals are still considered to be incarcerated.
RESIDENTIAL REENTRY MANAGEMENT (RRM) OFFICES
To find the Residential Reentry Management (RRM) offices , click on this link: https://www.bop.gov/locations/list.jsp
This link will not take you to the RRM page, however.  Next you must locate and click on the All Prison Types button and when the menu drops down then click on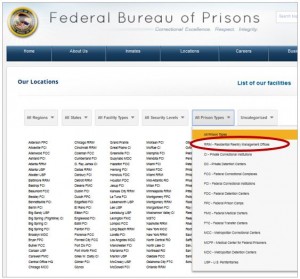 RRM – Residential Reentry Management Offices as shown in the image to the right. ->
Once you click on that, you will see this page…where you can then click on the link to each RRM. (sorry the image is small; click on the image for detail)
You can then choose which RRM to contact.
HALFWAY HOUSES
To find out about specific Halfway House Contractors (FYI: they are ALL private contractors) they can click on this link:
https://www.bop.gov/about/facilities/residential_reentry_management_centers.jsp
Once you land on the page, you will need to scroll about halfway down the page, PAST the check marks (but do pause to see if they are accurate) until you see the
Nationwide RRC Contracts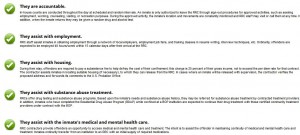 After they scroll about halfway down the page, they will find the complete listing.  The BOP put them in alphabetical order (like anyone knows the names of these places), instead of by location.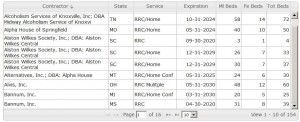 There is a MAP however, which might make it easier for you to locate the Halfway House near you.  If you'll click on the link or the image below you will go to the BOP website.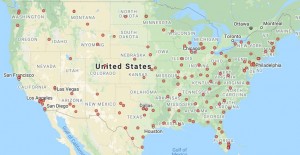 https://www.bop.gov/PublicInfo/execute/rrc?todo=query&successPageRedirect=/locations/map.jsp