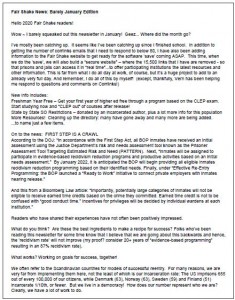 We send out a free monthly newsletter to incarcerated readers. You can keep up with the news by clicking on the various issues below.
Feel free to print the newsletter to send to loved ones, friends or pen pals!
As of 6.6.20, we have 3626 subscribers receiving the Fair Shake newsletter in federal prisons around the country, and throughout the Wisconsin Department of Corrections (DOC).
The Wisconsin DOC charges $.10 per message and 2367 of the readers are in WI…for a total of $236.70 each month.  I ask for ideas, reflections and responses to things I put in the newsletter, so the average monthly cost to communicate with WI prisoners is around $230. 
The good news is, incarcerated readers are also Fair Shake donors!  I apply everything the incarcerated donors send to the newsletter fund, to make sure the WI DOC subscribers receive the FS news.  This is the power of UBUNTU in action! 
Newsletter readers have expressed interest in wanting to play chess with folks who would be willing to play the 'old school' way…as people have done for centuries through letters, but now through the Corrlinks service!  Please email me if you're interested and I will connect you with a player.  You can find me at outreach(at)fairshake.net. 
Sorry, but I do not email a monthly newsletter to the public. If you'd like to volunteer to get one started, please let me know!
Another FREE corrlinks newsletter of interest is offered by the Legal Information Services Associates (LISA)  Webpage: https://www.lisa-legalinfo.com/newsletter-to-federal-prisoners/  Inside subscribers should send a Corrlinks invitation to newsletter@lisa-legalinfo.com.
Incarcerated readers: sign up for the FS newsletter by emailing outreach(at)fairshake.net!
4 Pandemic Pandemonium Edition
---
 2019
11 Thankful for the Opportunity