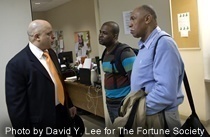 Fair Shake offers corrections and other reentry professionals – such as parole/probation officers, social workers, educators, restorative justice volunteers and more – a unique opportunity to support a formerly incarcerated individual's transition to society.
We support you in your efforts and provide many options to choose from.
RESOURCES: Easily select and print reentry resources from our Resource Directory
FREE SOFTWARE: Download a software application of our website. Incarcerated individuals can learn to use our website on stand-alone computers without access to the internet. (available only to prisons and jails)
PRINT: Documents from our Reentry Packet (listed below)
SHARE YOUR RESOURCES: Help us help others by contributing to the Resource Directory
FREE MOTIVATIONAL PRESENTATION: Get on the Fair Shake tour route!  Sue, the director travels constantly and would like to introduce Fair Shake in your institution.
Please contact us for a free Fair Shake presentation for incarcerated individuals and staff!
Questions? Comments? Critiques? Find us at information(at)fairshake.net or 608-634-6363