Who Will Fix Our Broken System?
Do you find it difficult to know where you can improve our broken criminal justice system? Fortunately there are many ways to get involved to improve reentry success and greatly reduce recidivism.  Can you teach a class?  Perhaps you could organize a book drive to send books to prisoners?  Maybe you could lend some time to building the Fair Shake resource directory which is seen and used (in offline formats) in prisons all around the country?  We need to think about the kind of citizens we wish to have in our communities and deeply consider what our prison system is doing to promote active citizenship.

The time for hoping that an elected, appointed or corporate hero will swoop in and fix the system is over. We've heard – for more than 40 years – about the programs, the plans, the employment and the behavioral interventions that the government, business leaders or other organizations will while, in 2014, we learned that more than 76.6% of the people who came home from prison were rearrested within 5 years. It's not that nothing works, it's that what they are doing doesn't work.  The same way that it doesn't work in our nation's schools.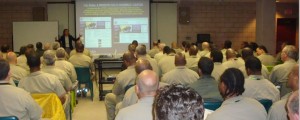 This system is not working for anyone except those who benefit from it. When will we stop this madness?  Who benefits?  Not just the private prisons, that's for sure. We can do better than this, but we need to ask hard, honest questions. We need 'all hands on deck' to turn this old ship around.
Fair Shake is my answer.  What is yours?  I'd love to hear from you!