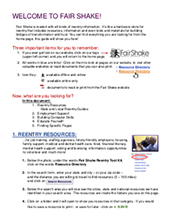 FAIR SHAKE WEBSITE/SOFTWARE MINI-TOUR

Fair Shake is like a reentry hardware store: we have tools, information and materials for returning citizens – and all of us – to build bridges of trust that support reentry success.We understand that this is a lot information to sift through, so we have created this easily accessible mini-tour, that enables users to navigate the website by simply clicking on the desired links below.
In addition to sending our free 100 page reentry packet, we also offer the following:
(Please click on the links in blue to get to our other pages.)
Why address multiple stakeholders? We understand that we must address the concerns of several stakeholder groups so that everyone is aware of the role they play in cultivating an environment that is open to a person who requests a 'second chance'.   In addition to offering our most innovative tools for those coming home, we offer information for the families of incarcerated individuals on both our Families and Friends page as well as in our Resource Directory.  We offer support for Corrections and Reentry professionals who work closely with incarcerated individuals getting ready to come home. We also offer information and tools for employers, property managers and communities so they can see how they fit into the reentry puzzle.
Self-esteem and self-empowerment are important components to successful reentry. While gaining employment and housing are crucial to reducing recidivism; relational, character and emotional considerations are essential to maintaining employment and housing, and are vital to strengthening families and friendships.  We offer a variety of documents to support building character and relationships, getting through tough situations, motivation tips and much more.  Please check out our Ownership Manual flip book, our Culture Shock document (for everyone, not just folks who are coming home!) and our Relationships: Proceed with Caution pages, and the documents on our Opportunities and Hurdles page (esp. Resisting Influence written by Philip Zimbardo, creator of the Stanford Prison Experiment).