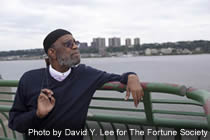 Are you ready to get a fair shake? We exist to support your successful transition! Fair Shake is like a reentry hardware store: we have tools, resources and information to support you as you build your new life, including bridges of trust with your family, employers, property managers and the community.
Remember, many of America's most highly treasured stories are those involving redemption and pulling ourselves out of tough situations to create meaningful and fulfilling lives. This can be your story!
For those of you who are currently incarcerated and are able to email us, you can request a reentry packet, ask questions or send comments and suggestions to outreach(at)fairshake(dot)net.