We are currently in the process of building this page and want to make it as useful as possible for all. We understand that access to the internet will be limited upon release, if allowed at all, so we want to provide as many physical addresses as possible, to add to the software for those who are currently incarcerated, unfortunately not many are available. If you find or know of any resources to add to this page please send them in to us so that we can make them available as soon as possible.Thank you.
Resources for Registrants printable flyer
---
 National Resources
ONCE FALLEN
Derek Logue
2211 County Road 400
Tobias, NE 68453                       Free E-Book "Your Life On The List" by Derek Logue ->
Since 2007, Once Fallen has been the leading reference & resource site for Registered Citizens and provides useful information to those seeking to reform or abolish sex offender laws.  Once  Fallen answers hundreds of phone calls and letters, visits with legislators, assists registrants in connecting to available resources and support networks, and provides analysis research on sex offender laws….ALL free of charge.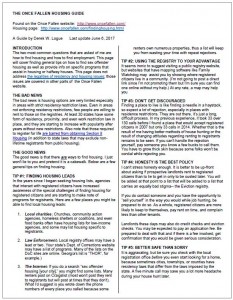 ONCE FALLEN Full Online HOUSING GUIDE

                                                             State-By-State Comparison of Registry Restrictions  ->
Written by J. Scott Nichols  2019  118 pages  PDF format…print one state or the whole book!
Healing from Harm         www.healingfromharm.co/

We offer Transformative Justice Support Groups as a space for healing from harm, both suffered and caused.We believe this to be an important way forward in preventing cycles of sexual violence. If you have caused harm, we invite you to heal from the sexual harm you have caused in a 16 week, evaluation-based weekly support group that offers space to heal in community under the facilitation of a sexual assault healing specialist.  Healing starts with releasing and reflection.
Healing from Harm
370 Jay Street, Floor 7
Brooklyn, NY 11202
---
SOSEN
Sex Offender Solutions and Education Network            http://sosen.org/
SOSEN.ORG
2211 C. R. 400
Tobias, NE 68453
SOSEN's primary mission is to educate the public, the news media, law enforcement and legislators with the facts about Child Sexual Abuse in an attempt to reduce the unfound and unwarranted hysteria as a result of misinformation and propaganda.
---
NARSOL

National Association for Rational Sex Offense Laws    https://narsol.org/
PO Box 36123
Albuquerque, NM 87176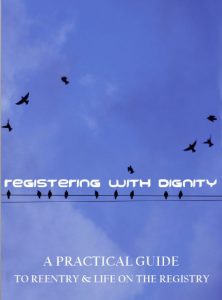 NARSOL's contact for BOP Corrlinks users: newsletter1940-digest@yahoo.com
<- REGISTERING WITH DIGNITY:
A Practical Guide to Reentry and Life on the Registry
NARSOL envisions effective, fact-based sexual offense laws and policies which promote public safety, safeguard civil liberties, honor human dignity, and offer holistic prevention, healing, and restoration.