CAVEAT:  This information has been submitted by a third party. Fair Shake is not confirming the effectiveness of this approach, it is only offering this work as a template to request Compassionate Release for others.    USE AT YOUR OWN DISCRETION.


FAMM: Everywhere and Nowhere
State-by-State report on Compassionate Release    2018
Tips to Help People File For FBOP Compassionate Release!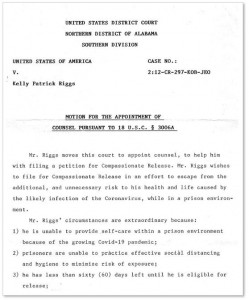 GETTING STARTED  –   Now that I've seen eight successful Compassionate Release decisions based on a COVID-19 claim, I am sharing tips to help you help others who are eligible for relief.  If you do not feel there is enough time to wait for your loved one to get relief and home confinement or a pardon/commutation then IMMEDIATELY ask a lawyer to put in for a 3582 COMPASSIONATE RELEASE MOTION
     STEP ONE  –  The incarcerated person must send an electronic "Request To Staff" to the warden of the federal institution and specifically ask the warden to put them in for "Compassionate Release" based on the Covid-19 pandemic.
(NOTE: The rest of this article is written to the Incarcerated person, so you might wish to copy and share this page, and also print and mail in the attached document above.)
     I know that many wardens have instructed inmates to seek relief from their unit team, and you should follow their instructions. But you must send and print a request directly to the warden as well. That is how you start the thirty (30) day clock of 18 U.S.C.: 3582(c)(1)(A). If you follow this one critical step, you can go to the court within thirty (30) days from the request to the warden no matter what your unit team does or does not do.
MOTION FOR COUNSEL  –  There is no replacement for competent counsel, if such a thing exist.  Compassionate Release is no different. Ask the court to appoint counsel every step of the way.
STEP TWO  –  Immediately write a simple motion asking that the court appoint counsel to help you prepare a petition for Compassionate Release. Make a copy of your request, you will need it in the future. The court will accept motions that are typed or neatly hand written.
DON'T WAIT!  FILE NOW  –  A recent BOP memo advised inmates that steps were being taken to evaluate if they were eligible for elderly home confinement.
The Compassionate Release statute, 18 U.S.C. :3582(c)(1)(A), was expanded by the First Step Act to allow inmates to file their own motions, with the district court, after being refused or ignored by the warden of the inmates institution or the laps of thirty (30) days, whichever is earlier. This has nothing to do with the memo that the BOP is trying to spin its population with. The memo does not mention Compassionate Release in it at all.
     If you're a prisoner who wants to survive the Coronavirus, you should file for Compassionate Release right now. If you read the Compassionate Release statute you will discover that the only condition is that "extraordinary" or "compelling" circumstances exist. Our own government has established the Covid-19 pandemic as both extraordinary and compelling.
THIS IS IMPORTANT  –  The compassionate release statute 18 U.S.C.: 3582(c)(1)(A) has an exhaustion clause. This means that after you make your request to the Warden you must follow all the necessary administrative remedies available to you.
     What I've noticed many people forget is that, if the warden denies your request you still must wait 30 days before you can file a motion with the court. If the warden denies you real fast, which is what I see that they are doing, you must appeal that decision with the regional office as the BOP program statement requires. The program statement allows only a 21 day window to appeal from the wardens decision before you're procedurally defaulted. Thus, if the 21 day window expires before the 30th day; you will provide the court with a very good reason to deny your claim as procedurally defaulted.
     This is easy, if the warden denies your claim for compassionate release file your appeal to the regional office on a BP-230 (what we all call a "10"). And on the 30th day, file your motion with the court.
Apparently Courts are starting to WAVE the 30 day requirement to petition the Warden for COMPASSIONATE RELEASE before going to the courts directly!!  THIS IS MONUMENTAL!  What could take a year is NOW NO LONGER REQUIRED!
STAY HEALTHY  –  One of the most important elements of seeking compassionate release is maintaining your own good health. We face a threat that we cannot see, smell, or taste; but it is very real none the less. If you are like me, and most federal prisoners nationwide, you are being issued a face mask every week. I do suggest you wear them when in close proximity to any real threat of infection and follow the CDC directive to wear your mask when you venture out of your housing unit. Also, if you have to have any contact with prison staff protect them, and yourself, by wearing a mask.
TO THE COURT  –  The next step to seeking Compassionate Release consists of filing a motion directly to the district court that imposed the sentenced.  The First Step Act of 2018, changed the law that governs compassionate release. Because of this change the Bureau of Prisons is no longer the gate keeping authority. If you read the statute, 18 U.S.C.: 3582(c)(1)(A), you'll find that the law now allows a defendant, the prisoner, to file a motion with the district court.
Along with this authorization comes the Supreme Court's controlling pro se doctrine that governs how a district court evaluates motions filed by prisoners. Yes, you have the right to a liberal construction when preparing your motion to the court. See HAINES v. KERNER, 404 U.S. 519. With this in mind, know also that you must avoid re-characterization. So, be sure that your motion says "compassionate release" and "under 18 U.S.C.: 3582(c)(1)(A)(i)" somewhere in the motion. And above all, make sure you list the "extraordinary and compelling reasons" the court may rely on to reduce the sentence.
RECENT DEVELOPMENTS  –  First, we have had a great deal of good fortune with the second wave of counsel motions, that we filed for our fellow prisoners. But many have been denied also. Don't be discouraged, the Federal Public Defenders office is starting to rise to the needs of our current national emergency.
     Second, I have recently encountered situations where BOP staff member want inmates to start the administrative process over, when the warden denies their request. Don't. If your unit team refuses to  provide you with a BP-230 (a.k.a. "10") to appeal from the wardens denial, don't panic. All you have to do is write a letter to your regional office. In your letter explain your circumstances, just like you would if your appeal were filed on the proper form. Above all, make sure you explain that your unit team refused to provide the necessary forms to appeal from the wardens decision. This information should also appear in your motion to the court, for compassionate release. I also recommend that those who can have their family call the Regional office, to let them know that you are being deprived of the necessary forms.
HAVE A PLAN  –  As prisoners we hear it every day, so we know what's required. But what I've noticed to be the most neglected part of compassionate release requests is a release plan. A release plan is not mentioned in 18 U.S.C. :3582(c)(1), but it is the most critical part of a prisoners future. I believe it's very important to hit the ground running. We should all think about where we're going to live, work, and get health care. If we're prepared perhaps we can avoid a return trip to the prison we're trying so hard to get out of.
     A lesson that has remained with me since my youth is, "a failure to plan is the same as planning to fail." So let's plan our release early, take time to live the rest or your life with purpose.
A NOTE FROM THE AUTHOR:
"I am happy to join with Corey Jefferson in his effort to seek compassionate release for those who can not do it on their own. Corey is choosing to help others even though he is in danger himself."    – Kelly Patrick Riggs